Physical Therapist Becomes First at Centennial Hills Hospital to Earn Neonatal Therapist Certification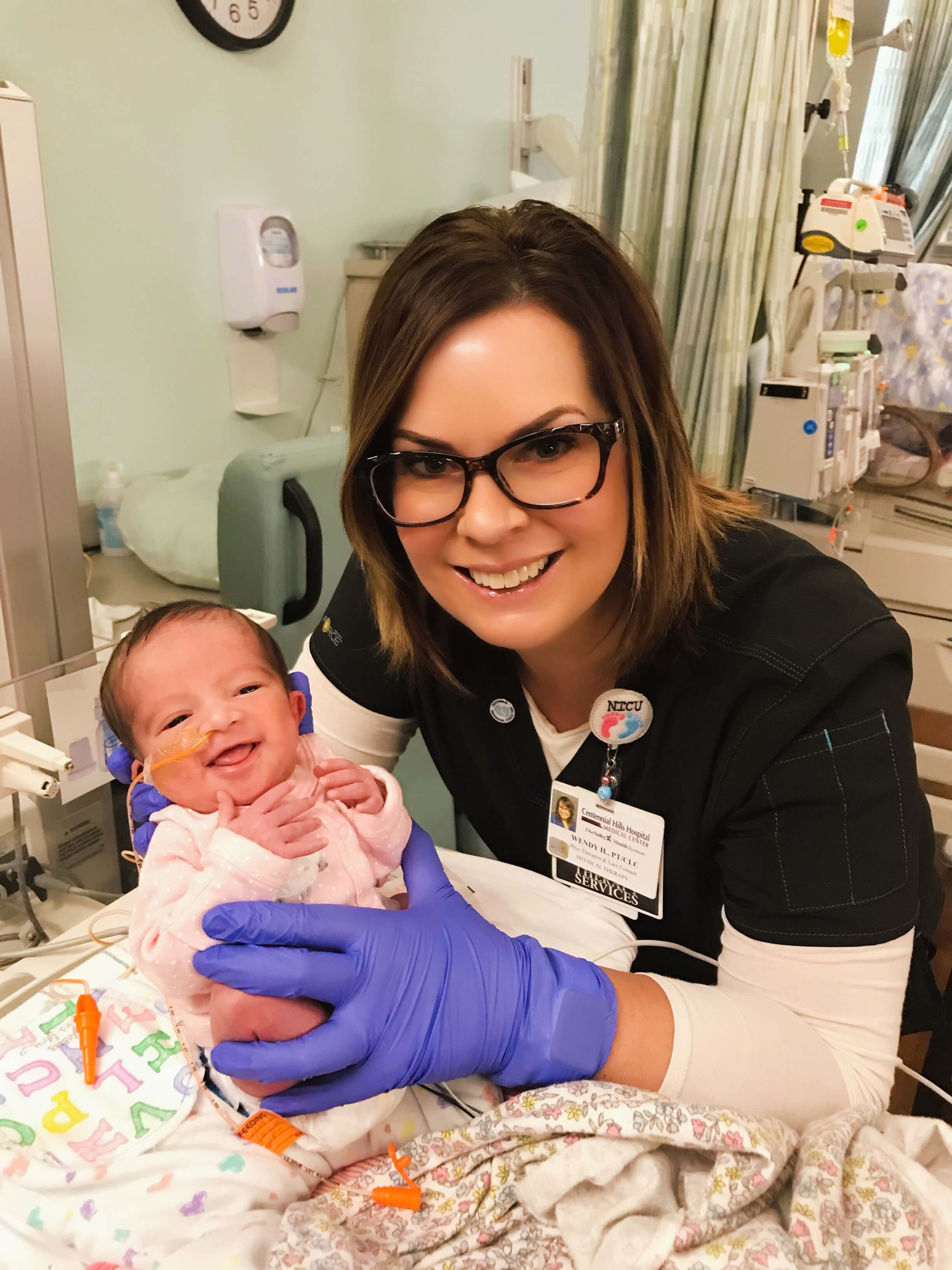 Since 2009, a skilled team of nurses and specialists at Centennial Hills Hospital Medical Center has given our smallest patients the special care and attention they need in our Neonatal Intensive Care Unit. Now these infants and their families will have access to the expertise of physical therapist Wendy Hubbard-Alexandre, who became our first Certified Neonatal Therapist on staff.
Neonatal Therapists provide highly specialized therapeutic care that supports long-term development in pre-term and other infants who begin life in the NICU.
"Early therapy interventions can make a positive, long-term impact," Wendy said.
The therapies Wendy uses target the very specific needs of these tiny patients. For example, she can help to ensure that babies have developmentally appropriate sensory and motor experiences. Neonatal Therapists are also trained to follow a family-centered model, which means part of Wendy's job will be to educate families about their baby's development and what certain behaviors mean. She'll also be an invaluable asset to the NICU team. Wendy will continue our commitment to providing the strongest possible foundations for healthy, long-term development in the newborns she and her team treats.
To become certified, Wendy completed hours of direct practice in the NICU, received additional education, paired with a mentor for additional experience and passed the Neonatal Therapy National Certification Exam.
With her certification, Wendy joins a select group. Fewer than 300 individuals worldwide have earned this designation and just three others are licensed to treat patients in the state of Nevada. She joins the only other Certified Neonatal Therapist in The Valley Health System, Gabby Kompare, who works in the NICU at Spring Valley Hospital Medical Center.
Wendy's commitment to her profession inspires all of us to stay forward-looking. Our doctors and nurses always strive to find ways to improve the care they provide patients. That's why we support all of our employees at The Valley Health System who want to seek out new educational opportunities by helping to cover tuition costs. We also offer centralized education services through our Education and Training Center.